Domain Richard Leroy
Find Tasted Wines
- Clos des Rouliers 2008
- Les Noëls de Montbenault 2008
- Clos des Rouliers 2007
- Les Noëls de Montbenault 2007
- Clos des Rouliers 2006
- Les Noëls de Montbenault 2006
- Les Noëls de Montbenault 2003
Today, Richard Leroy - a mature and talented winemaker – is making various types of Chenin wine in his vineyard "Les Noels de Montbenault" located in the heart of Coteaux du Layon area.
He is the main player in the Davodeau's comic strip: "The initiates" a comic artist and a wine artisan exchange jobs.
Richard Leroy was also one of the actors in Bodin's documentary "Wine: the green revolution".
After finalizing his studies in Economic sciences, Leroy and his wife Sophie settled down in Germany. By then, Sophie opened a shop where French wines and finest food were on sale. Despite their successful venture, the couple decided to invest their time in expanding their knowledge about wine. In 1980, the couple moved to Paris for one reason only which was to taste as many varieties of wine as possible. During this period, Paris was the only international wine market where it was possible to buy varieties of local and foreign wines.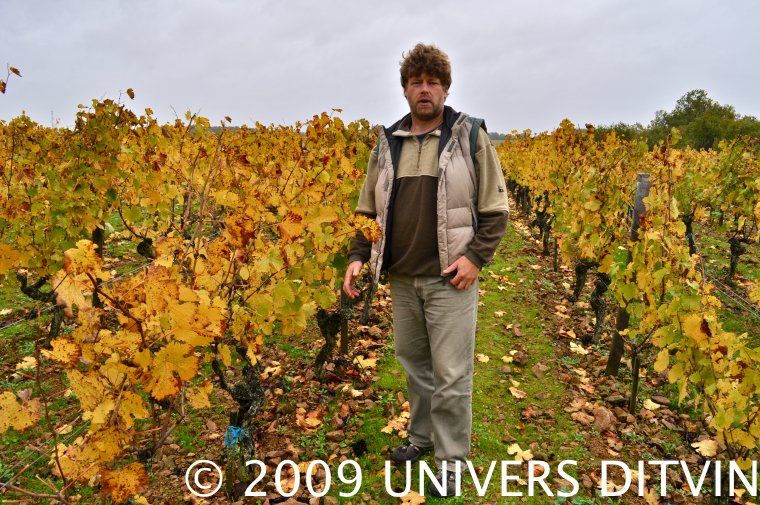 Richard Leroy in his Noëls de Montbenault © UNIVERS DITVIN

During their time in Paris, Richard and Sophie became friends with the Drouhin family, Dominique Lafon, Christophe Roumier etc… to the point that their social gatherings became a motivation for their next adventure.
Despite the increasing price of owning a vineyard, the search to find a suitable one became inevitable. After tasting some quality wines at the International Agricultural Show in Paris, Leroy decided to look for a vineyard in Coteaux du Layon area.
There, Richard views were greatly influenced by the Menard family and the locals. His plots were located between two appellations better known as Quarts of Chaume and Bonnezeaux.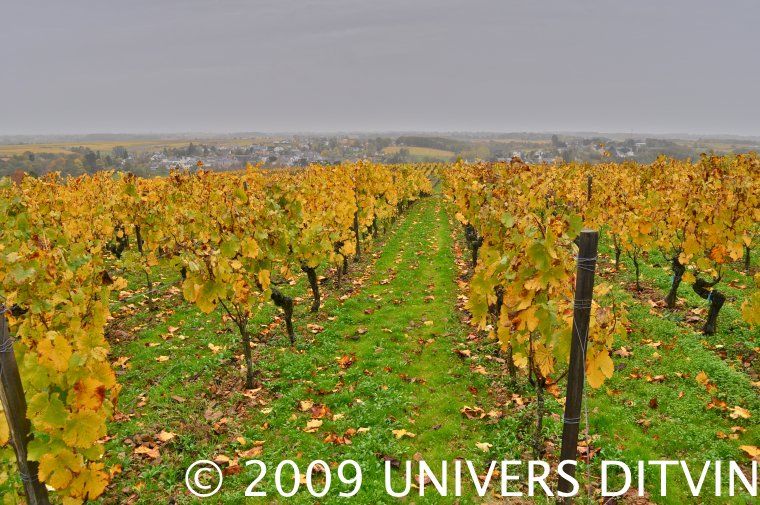 "Les Noëls de Montbenault" overlooking Rablay-sur-Layon © UNIVERS DITVIN

One day, Richard had the opportunity to buy the plot of "Les Noels de Montbenault". Since its creation, no chemical products were used at the vineyard but a great investment of manual efforts.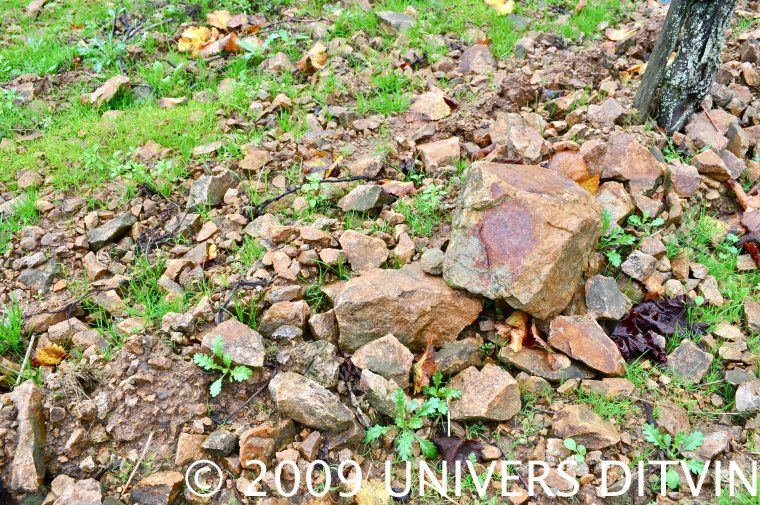 With all the schistose, it looks difficult to get the soil ready. © UNIVERS DITVIN

Vines planted in the 60s © UNIVERS DITVIN

Upon his arrival to Rablay, Richard firstly decided to limit his production of wine to sweet varieties only. He soon faced an ethical issue towards the use of Sulphur. It is almost impossible to produce wines using only bottled residual sugar without using SO2. Nowadays, Leroy is focusing on producing dry wines that require 20mg of SO2 per litre only which remains very low compared to 100-180mg per litre used by 95% of French winemakers. If the use of sulphur issue is resolved, Leroy will think again about the production of sweet wines.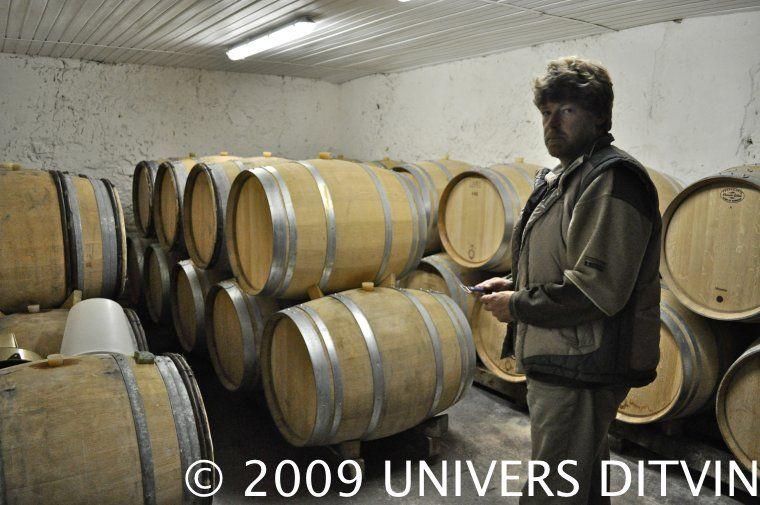 Richard Leroy in is cellar © UNIVERS DITVIN

The vineyard is 3 hectares split into two plots; the first field is 2 hectares, the soil shallow and full of volcanic rock rhuolite type. Its exposure is south and its location on top of the hill is windy which helps drying up the grapes throughout the year and also protect against diseases. The second field is 1 hectare and it is located at the bottom of the hill, the soil type is essentially the same but the wind is less present.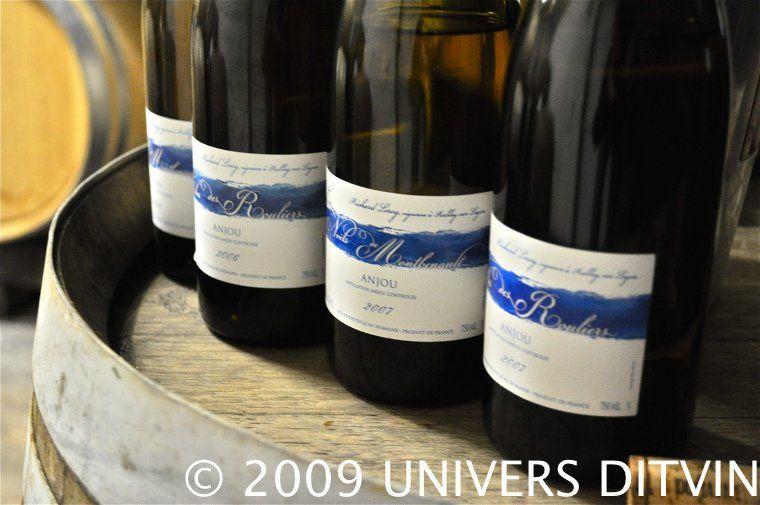 Bottled "Les Noels de Montbenault" and "le Clos des Rouliers" © UNIVERS DITVIN

Clos des Rouliers 2008
Due to a freezing cold in April, the production of the year was limited to an average of 3 hectolitres per hectare.
The local wine has a golden yellow colour and a woody scent which gets lighter by the years. The wine has a mild, lemony and fresh taste. The bottled wine can be kept for several years in a cellar.
Leroy is confident about his product; the richness of his Chenin has permitted him to buy new barrels every year. His wish is to have barrels maturing in his cellar.
Les Noëls de Montbenault 2008
As always, the wine has a beautiful golden yellow colour, a mixture of sweet, rich, lightly roasted and complex taste. The wine has a very sharp, acidic, lemony, yet a beautiful and long lasting taste in the mouth.
Clos des Rouliers 2007
Due to the mildew disease, Leroy's vines were badly affected. This year was a very difficult one with a loss that he had never seen before.
Still, the colour and the scent are always present.
A slight acidity in the mouth marks certain opulence due to an alcohol level of 14.7%
Les Noëls de Montbenault 2007
The wine has a golden yellow colour, a soft taste of dry fruits like roasted almonds, hazelnuts and oak.
It has a rich body and a complex palate with a good acidity of grapefruit.
While very promising, this wine still needs a bit of time to mature.
Clos des Rouliers 2006
This type is characterised with a fruity scent, balanced with a beautiful floral touch.
The woody taste is mild with a unique softness. It is a wine yet to be discovered.
Les Noëls de Montbenault 2006
Not to everybody's taste, a very mellow woody scent with a fruity touch.
The acidic and woody tastes are less present.
The wine is still at a stage where it is still not at its best.
Les Noëls de Montbenault 2003
A very difficult wine to vinify and the smell of the cellar is that of ethyl acetate (adhesive tape) during the fermentation stage.
The wines became interesting with a mineral scent, a soft fruity taste and a touch of the Alsatian Riesling.
It is fair to conclude that Leroy's wines require time to mature.